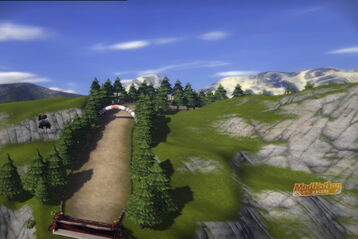 Alpine Drop
is a course in the game
ModNation Racers
. It is the first course that the MRC hosted a course on, and is set in the
Alpine Theme
. It is the finale course in the
Home Tour
.
Base Best Lap: 0:44:000
Base Best Time: 2:22:000
Advance: Finish 3rd or better
Rewards: Tear 1 (Sticker), Briefs (Bottoms), Socks (Footwear)
Payoff: Finish 1st
Take all 3 shortcuts
Rewards: Cosmo (Mod), Cosmo's Kart (Kart), Matador (Body), Hypersonic (Spoiler)
Bonus: Finish 1st
Get 15,000 Spin Points
Rewards: Floppy Rabbit (Ear), Top Hat (Headgear), Robot (Voice)
This is the only track available in the demo.
Ad blocker interference detected!
Wikia is a free-to-use site that makes money from advertising. We have a modified experience for viewers using ad blockers

Wikia is not accessible if you've made further modifications. Remove the custom ad blocker rule(s) and the page will load as expected.