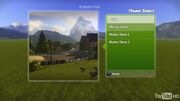 The Alpine Theme is one of the available themes in the game ModNation Racers. The Alpine Theme consists of a green stretch of land with white cliffs and mountains. This was the first environment announced, and the one used in the E3 Presentation in 2009.
Things you can expect to see in this theme are:
Roadside Villages
Sheep
Pine Trees
Bridges
Dirt and Paved Roads
Ad blocker interference detected!
Wikia is a free-to-use site that makes money from advertising. We have a modified experience for viewers using ad blockers

Wikia is not accessible if you've made further modifications. Remove the custom ad blocker rule(s) and the page will load as expected.