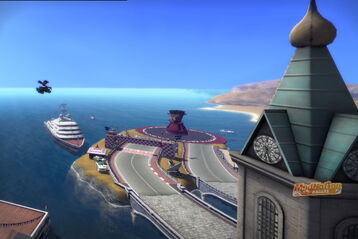 Breakwater is the second track in the Grand Tour. It is set in the Seaside Theme. The track curves through a new construction neighborhood near a marina. It also has two jumps, one of which guides you straight into a tall tower. You must swerve in midair to avoid it.
Best Lap: ?
Best Time:?

Advance: Finish 3rd or better
Reward: Baby Star (Sticker), Halo (Odds 'N Ends)
Payoff: Finish 1st
No wall hits for 1 lap
Reward: Bird House (Antenna), Sticks and Leaves (License Plates), Bomb (Hood)
Bonus: Finish 1st
Take down 3 opponents in the shipping yards
Reward: Eighties (Eyewear), The Comb Over (Hair), Diving (Accessories)
Ad blocker interference detected!
Wikia is a free-to-use site that makes money from advertising. We have a modified experience for viewers using ad blockers

Wikia is not accessible if you've made further modifications. Remove the custom ad blocker rule(s) and the page will load as expected.