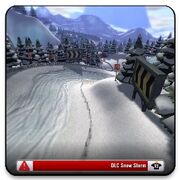 Downhill Peak is a Track in ModNation Racers. The track is of the Arctic Theme and is in the Arctic Tour.
Track Details
Edit
The track path is very basic and wide, and is not technical. There are three Mega Jumps on the track, all of them are very long jumps. Each jump has enough Airtime for players to spin at least four to five complete Spins and land correctly.
The downhill slalom area of the track has irregular S turns with the wall rides on the outside, Boost Pads scattered in various spots and a couple small rows of Item Pods.
No hazards can be found on the track.
In Career Mode
Edit
Downhill Peak Career Mode Stats
Loading Description
Unknown
Cutscene Description
Unknown
Best Time: Unknown
Best Lap: Unknown
Ad blocker interference detected!
Wikia is a free-to-use site that makes money from advertising. We have a modified experience for viewers using ad blockers

Wikia is not accessible if you've made further modifications. Remove the custom ad blocker rule(s) and the page will load as expected.