Not to be confused with Drafting.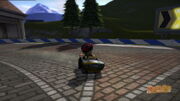 Drifts are one of the ways players can earn Boost Points. Ending a drift before hitting a wall will reward players with the amount of boost points shown. Hitting a wall will cause the drift points that would have been gained to be lost. Some challenges in the Career Mode require a certain amount of Drift Points to complete.
In ModNation Racers for PS3 and ModNation Racers: Road Trip, an interface sound is played when your drift reaches 2500, 5000, 7500, 10,000, 15,000, or 20,000 points, and in ModNation Racers: Road Trip, drifting will give you boost points instantly along with the interface sound. In addition, your kart's tires start sprouting flames at 5,000 points, though this does not affect gameplay.
Ad blocker interference detected!
Wikia is a free-to-use site that makes money from advertising. We have a modified experience for viewers using ad blockers

Wikia is not accessible if you've made further modifications. Remove the custom ad blocker rule(s) and the page will load as expected.