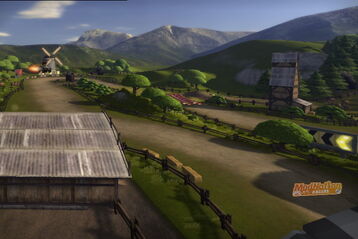 Farm Frenzy
is a course in the game
ModNation Racers
. It a track that features Farm Animals, and is set in the
Alpine Theme
. It is the second course in the Home Tour.
Base Best Lap: 0:35:00
Base Best Time: ?
Advance: Finish 3rd or Better
Rewards: Skull Mouths (15), Nail Odds and Ends, Short Shorts
Payoff: Finish 1st; Get 30k Drift Points
Rewards: UFG Flag Antennas, '57 Deluxe Body
Bonus: Finish 1st; Get 3k Draft Points
Rewards: Evil Horn odds and ends, Sports Helmet Headgear, Hillbilly Mouths (15)
This is the first track shown and raced since the exclusive beta.
Ad blocker interference detected!
Wikia is a free-to-use site that makes money from advertising. We have a modified experience for viewers using ad blockers

Wikia is not accessible if you've made further modifications. Remove the custom ad blocker rule(s) and the page will load as expected.