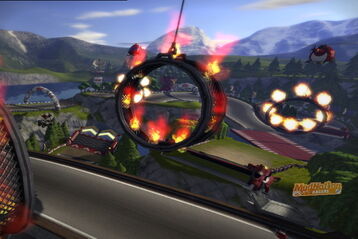 Flaming Jumps is a course in the game ModNation Racers. It is the fourth and final race of The Mayhem Tour, and the first new course the player gets after completing the Advance achievement. Hale appears as the Elite Mod for this course. Contrary to popular belief, Hale's minions, on this course, do not fly.
| Language | Name | Meaning |
| --- | --- | --- |
| Spanish | Saltos ardientes | Flaming Jumps |

Base Best Lap: ?
Base Best Time: ?
Advance: Finish 1st
Rewards: Flaming Jumps, Castle, Stone Wall, Stone Tower, Windmill, Clock Tower, Cow Spray, Heroic Statue, Stone Archway, Rural Spray, Farm Silo
Payoff: Finish 1st; Take down 3 opponents
Rewards: Mods (11), Karts (11), Corsa Body, Mid Drop Suspension, Shield Wheels

Bonus: Finish 1st; Take down Hale in front of the Grandstands
Rewards: Nightmare Gloves, Bottoms, Tops, Footwear, Tomboy Voice

Grudge Match: Finish 1st
Rewards: Hale, Hale's Kart, Stickers (18), Spartan Helmet, Spiked Pads
Ad blocker interference detected!
Wikia is a free-to-use site that makes money from advertising. We have a modified experience for viewers using ad blockers

Wikia is not accessible if you've made further modifications. Remove the custom ad blocker rule(s) and the page will load as expected.