Continuity Errors
Edit
Animation Errors
Edit
In a frame in the D-Day Mission cutscene, the MRC flyer Tag has is shown merged into the table.
When Tag spray paints his kart, he sprays only two colors, yellow and green. When the painted kart is shown, several other incorrect colors appear, which are not yellow and green.
Real-Time Camera switching Glitches
Edit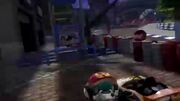 In the cutscene where Tag's kart loses it's wheels, a camera placement error shows Item Pods above a Tire Fence Prop, and a Wide Ramp prop in the distance. This could mean that the cutscenes actually take place on Tracks. If this is true, then there are Props in the full game that cannot be accessed at all!
In the final cutscene, Tag and Mother switch expressions after the camera has taken the pictures.
Ad blocker interference detected!
Wikia is a free-to-use site that makes money from advertising. We have a modified experience for viewers using ad blockers

Wikia is not accessible if you've made further modifications. Remove the custom ad blocker rule(s) and the page will load as expected.