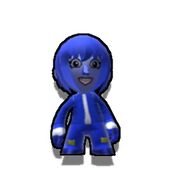 Gogo is a community mod in ModNation Racers for the PlayStation Portable and ModNation Racers: Road Trip.
Gogo never thought she would end up an MRC racer. After graduating from high school, Gogo was ready to take on the world! She wanted to travel to the far reaches of the glove and study everything from the history of cheese to the philosophy of modern dance. The problem was Gogo could never pay for such an extravagant education on her own. That's when a friend told her about something called student loans.
Apparently, some kind lender gives college bound Mods money to help them on their way. Amazing. Gogo applied for as many loans as she could and collected more than enough money to travel the globe and stay in school for years. After earning her final degree, Gogo couldn't wait to thank the wonderful person who gave her all that money. But the lender contacted Gogo first, demanding their late payments and accrued interest. Gogo was shocked and crushed. She had to give the money back? How was she, fresh out of college with fifteen useless degrees, going to pay back all that money plus interest?
Just as Gogo was about to have a nervous breakdown, she spotted a flyer for a local MRC race. Wasn't there a lot of prize money in MRC racing? Gogo remembered studying the basics of Kart racing in her sixth year of school and calculated that if she applied her studies to practice, she could become the top racer. She could even win enough money to pay off her loans.
It's been only three years since Gogo's first race but she managed to cut her debt by twenty percent! Gogo is well known for being a penny pinching hustler in the racing world, but also respected as a passionate racer who never turns down a race and is always on the go.
External Links
Edit
Ad blocker interference detected!
Wikia is a free-to-use site that makes money from advertising. We have a modified experience for viewers using ad blockers

Wikia is not accessible if you've made further modifications. Remove the custom ad blocker rule(s) and the page will load as expected.