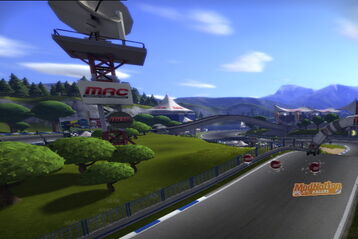 The Home Tour is the first 4 tracks in Career Mode for ModNation Racers. It consists of the tracks Mod Circuit, Farm Frenzy, Village Run, and Alpine Drop. It is the tour in which players start in. No Elite Mods are seen, besides Tag. The other Racers are: Emao III, Hooleyman, Radu, Tobias Roy, Mic, Shotz, JZee, Cosmo, Gunder, A-Mach, and Skye.
Despite Mod Circuit being the first track you play in the game, the ModNation Racing Championship does not consider it as the first track of the Home Tour, instead dubbing Farm Frenzy as the first race of the season, and instead considers Mod Circuit as a pre-eliminatory course.
Ad blocker interference detected!
Wikia is a free-to-use site that makes money from advertising. We have a modified experience for viewers using ad blockers

Wikia is not accessible if you've made further modifications. Remove the custom ad blocker rule(s) and the page will load as expected.