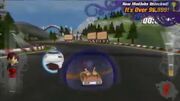 This feature is exclusive to the PSP version of this game.
Last Kart Standing is a racing game mode in ModNation Racers for the PlayStation Portable. In this mode a timer starts after the initial lap is completed, and every time that timer reaches zero, the person in last place is eliminated. The racer in last place will boost automatically in the last five seconds of the timer. You can set the timer for 20 seconds, 30 seconds, or 45 seconds.
Ad blocker interference detected!
Wikia is a free-to-use site that makes money from advertising. We have a modified experience for viewers using ad blockers

Wikia is not accessible if you've made further modifications. Remove the custom ad blocker rule(s) and the page will load as expected.