Lost Temple
is the fourth race in
the Grim Tour
.
Aloha
is the
elite mod
for this track. This track is one of many to have the island theme. It also has a contraption that supposedly is capable of talking to the dead, or at least that is what people are told.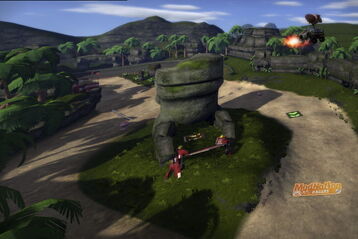 Base Best Lap: ?
Base Best Time: ?
Advance: Finish 3rd or better
Rewards:

Payoff: Finish 1st; Earn 15,000 Spin Points
Rewards:
Bonus: Finish 1st; Take out Aloha on the gauntlet
Rewards:

Grudge Match: Beat Aloha 1-on-1
Rewards: Aloha, Aloha's Kart
Ad blocker interference detected!
Wikia is a free-to-use site that makes money from advertising. We have a modified experience for viewers using ad blockers

Wikia is not accessible if you've made further modifications. Remove the custom ad blocker rule(s) and the page will load as expected.