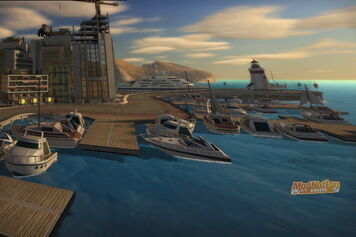 The Marina
is a course in the game
ModNation Racers
. This track was mostly on a sea side marina(hence it's name), and was part of the
Grim Tour
.
Dyno
was the
Elite Mod
of the track.
Base Best Lap: ?
Base Best Time: ?
Advance: Finish 3rd or Better
Rewards: Snowboard Eyewear, Uniform Top
Payoff: Finish 1st; Get 2000 Max Speed Points
Rewards: Turbo Engine, Dash Body, Plush Velvet Seat, 5 Spoke Wheel

Bonus: Finish 1st; Get 5000 Drift Points
Rewards: Side Sweep Hair, Flight Helmet Headgear, Crane Truck Prop, Arpyle Sweater Top
Grudge Match: Score more points than Dyno
Rewards: Dyno, Dyno's Kart, Stripe Stickers (13), Fish Ear Odds n' ends, Lizard Eyes 10 (13)
Ad blocker interference detected!
Wikia is a free-to-use site that makes money from advertising. We have a modified experience for viewers using ad blockers

Wikia is not accessible if you've made further modifications. Remove the custom ad blocker rule(s) and the page will load as expected.