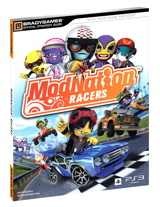 "

The secret behind every great racer is good driving. Knowing the fundamentals is essential if

Tag

has any hope of taking the

MRC

. After loading up

the game

for the first time, Tag is

tossed right into

a

race

and he better know what he is doing if he wants to get past the

first challenge

!

"

—quote from the

ModNation Racers Official Strategy Guide

by BradyGames
The ModNation Racers Official Strategy Guide by BradyGames is BradyGames' official strategy guide for both ModNation Racers and ModNation Racers for the PlayStation Portable. The book costs $19.99 United States dollars and $22.99 Canada dollars when new.
Related Content
Edit
Ad blocker interference detected!
Wikia is a free-to-use site that makes money from advertising. We have a modified experience for viewers using ad blockers

Wikia is not accessible if you've made further modifications. Remove the custom ad blocker rule(s) and the page will load as expected.