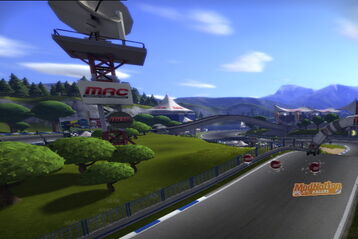 Mod Circuit is the first Track in the game ModNation Racers. The Track is the D-Day Mission of the Home Tour which Tag needs to finish before gaining access to the ModSpot. It is the track that all players start on. Mod Circuit is a modified figure-eight track. Tag must learn about item pods, drifting, and how to boost.
Track Details
Edit
The track is a modified figure-eight track. There is an overpass bridge over the track in the center. There are some Item Pods and Boost Pads on the track.
On two of the turns, there is a dirt path that acts as a pseudo-shortcut that you can drift over and gain Boost Points.
In Career Mode
Edit
Mod Circuit Career Mode Stats
Loading Description
Unknown
Cutscene Description
Unknown
Best Time:

1:39:00

Best Lap:

0:31:00
Achievement Details
Advance
Finish the race
Headphones Headgear, Cyborg hands, The Funk Glasses
Payoff
Finish 1st


Pick up 3 Item Pods
Skull Ornament, Beachwood Body
Bonus
Finish 1st


Drive over 3 Boost Pads
Classic Goalie Mask Headgear, Sport Shirt Tops, Beefcake voice