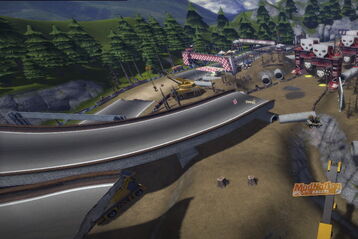 Modobahn is the pre-race of the Grim Tour for the PS3 version of ModNation Racers. It is a construction site with tractors, explosive barrels, and devastators as obsticles. This is the first race where Tag is coached by Richard Short, introducing his new racing suit and new kart sponsored by Conservative Motors. This is also the track where Tag learns how to use shootable triggers.
Career Mode stats
Edit
Best Time: ?
Best Lap: ?
Advance: Finish 3rd or better
Rewards: Modobahn, Stickers (Fancy Scroll)
Payoff: Finish 1st and activate 3 devastators
Rewards: Fangs License Plate, Racing Seat
Bonus: Finish 1st and take down 5 opponents
Rewards: Pill Eyes, Boxy, Sedu, Sealed Helmet
Ad blocker interference detected!
Wikia is a free-to-use site that makes money from advertising. We have a modified experience for viewers using ad blockers

Wikia is not accessible if you've made further modifications. Remove the custom ad blocker rule(s) and the page will load as expected.