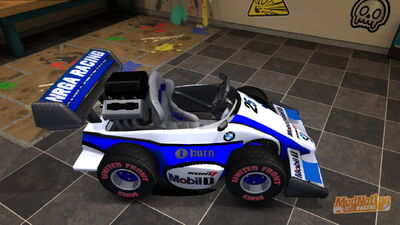 The NR-01 was the kart that NRGA-RACING raced in the 2011 season of the MRC. It was the first one of the team. The kart was designed by 22B and BMW was responsible for developing the engine. The kart was good enough to give Jez the victory at the world championship.
CHARACTERISTICS: The kart has a carbon fiber monocoque. The front and rear wings are made of carbon fiber too. The engine is an aluminum V8 block, developed by BMW. The suspension system was made by KONI and it has Brembo brakes.
AERODYNAMICS: This is the real strength of kart. 22B designed the kart to be infallible on any terrain. The front wing, rear wing, diffuser and flat bottom functioned as a unit in perfect harmony. Rivals tried to copy NR-01 aerodynamic solutions during the season, but they never managed to reach the level of the NRGA kart.
TRACK RECORD: 2011 World Champion, Award for the best kart of the 2011 MRC season.
CHAMPIONSHIP RESULTS

| | | | | | | |
| --- | --- | --- | --- | --- | --- | --- |
| DRIVERS | HOME TOUR | MAYHEM TOUR | RANGE TOUR | GRIM TOUR | GRAND TOUR | FINAL RESULT |
| JEZ | 1º | 1º | 3º | 2º | 1º | WINNER |
| TAG | - | - | 1º | 1º | 2º | RUNNER-UP |
Ad blocker interference detected!
Wikia is a free-to-use site that makes money from advertising. We have a modified experience for viewers using ad blockers

Wikia is not accessible if you've made further modifications. Remove the custom ad blocker rule(s) and the page will load as expected.