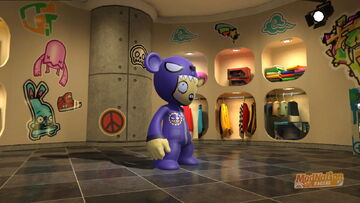 PJ
is a Mod in ModNation Racers. He kind of looks like the kid from
Where The Wild Things Are
. He wears that of a baby or to a lesser extent an infant's clothing, this clothing is sleeper with a hoodie that retains the look of a mouse. His main colors are yellow and purple. Along with his clothing style PJ acts like a big baby all the time as visual in the beginning of
Modobahn
. PJ's clothes are actually related to a baby's clothes, rather than an infant since they have an opening around the rear area, which would be used for diaper changing. PJ is given as a normal mod that can be re-mixed.
PJ along with Astro Kitty can be seen in the Modnation Racers Club space in PlayStation Home giving out racing tips.
He appears during The Grim Tour.
PJ is the racer in the kart in the game in the ModNation Racers Club.
Ad blocker interference detected!
Wikia is a free-to-use site that makes money from advertising. We have a modified experience for viewers using ad blockers

Wikia is not accessible if you've made further modifications. Remove the custom ad blocker rule(s) and the page will load as expected.