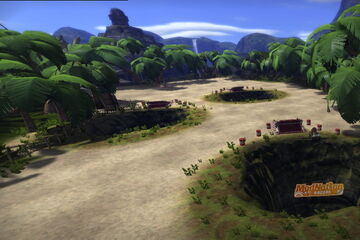 Rickety Bridge is the fourth track of The Range Tour. This course is an idyllic beach setting 40 miles off the coast. At a pre-race cutscene, Scout cracks his knuckles at Tag, in order to intimidate him and establish his dominance on the track early on. You need to take down your opponent on a big bridge (you need an item or sideswipe when you beside your opponent when you have enough Boost).
Best Lap: ???
Best Time: ???
Achievements
Edit
Advance: Finish 3rd or better
Prizes: Rickety Bridge, Underbite,
Payoff: Finish 1st; Take down 3 opponents on the big bridge
Prizes: Baja, High Offroad, Mudders

Bonus: Finish 1st; Take down Scout on the big bridge
Prizes: Cardboard Mask, Arrow, Spotlight 1, Stadium, Oh So Pretty
Grudge Match: Outscore Scout
Prizes: Scout, Scout's Kart, Feline, Cornrows
Ad blocker interference detected!
Wikia is a free-to-use site that makes money from advertising. We have a modified experience for viewers using ad blockers

Wikia is not accessible if you've made further modifications. Remove the custom ad blocker rule(s) and the page will load as expected.