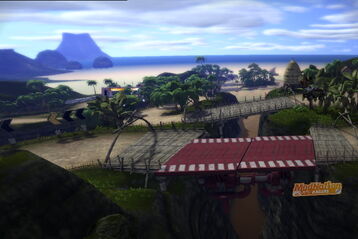 Rumble Jungle is the third track in the Grand Tour. It is set in the Jungle Theme. The track runs through a large tropical island. It features many curving bridges and sandy paths near rugged hills.
Best Lap: ???
Best Time:???
AchievementsEdit
Advances: Finish 3rd or better
Payoff: Finish 1st; Earn 15,000 Spin Points
Bonus: Finish 1st; Earn 100,000 Drift Points
Ad blocker interference detected!
Wikia is a free-to-use site that makes money from advertising. We have a modified experience for viewers using ad blockers

Wikia is not accessible if you've made further modifications. Remove the custom ad blocker rule(s) and the page will load as expected.