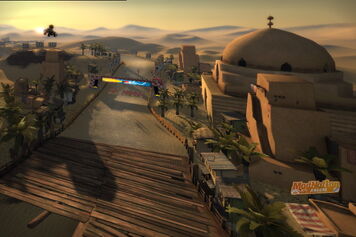 Sandstorm is the first track of the Grim Tour, and where Tag must face long time racer, Slick. This track has been in the MRC since 1931, where founder, Marcus Ramses Callahan turned the desert into a Modnation racing track.

Best Time: ?
Best Lap: ?
Advance: Finish 3rd.
Rewards: Stickers (Nature), Ripped Jeans
Payoff: Finish 1st and don't fall off the track.
Rewards: Venom Kart Body, Tesla Coil Engine, Barbed Wire License Plate, Spinna Wheels
Bonus: Finish 1st and take down Slick on the cliffside.
Rewards: Vixen Eyes, Princess Gloves, Graduated Chip, Private Club
Grudge Match: Get a higher score than Slick.
Rewards: Slick, Slick's Kart, Goggles, the Snap, Roller
Ad blocker interference detected!
Wikia is a free-to-use site that makes money from advertising. We have a modified experience for viewers using ad blockers

Wikia is not accessible if you've made further modifications. Remove the custom ad blocker rule(s) and the page will load as expected.