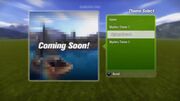 The Seaside Theme is one of the themes available in ModNation Racers. This theme was officially announced on Gamespot's "On The Spot" Daily Demo. Also, it was seen in concept sketches but it was never shown in action. This theme seems to be very similar to the Alpine Theme, although it may not have very hilly surroundings. But the track and the over all color may be the same.
Things you can expect to see in this environment are:
Water
Rivers
Waterfalls
Ships
Ad blocker interference detected!
Wikia is a free-to-use site that makes money from advertising. We have a modified experience for viewers using ad blockers

Wikia is not accessible if you've made further modifications. Remove the custom ad blocker rule(s) and the page will load as expected.