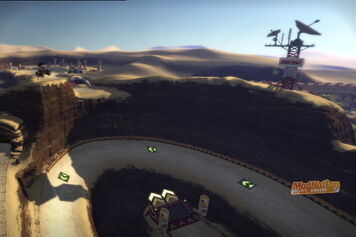 Sinkhole is the fifth track in the Grim Tour. It is an abandoned military outpost, currently under survallence by Nato, the track champ.
In Career Mode
Edit
Sinkhole Career Mode Stats
Loading Description
Unknown
Cutscene Description
Unknown
Best Time: Unknown
Best Lap: Unknown
Achievement Details
Advance
Finish 3rd or better

Payoff
Finish 1st


Take down opponent near the sinkhole

Bonus
Finish 1st


Destroy Nato's Explosives - Sonic Rifts can destroy them all in one lap.

In the begining of the race the headlines below say that ancient bigfoot bones have been found in the middle of the biggest sinkhole.
Ad blocker interference detected!
Wikia is a free-to-use site that makes money from advertising. We have a modified experience for viewers using ad blockers

Wikia is not accessible if you've made further modifications. Remove the custom ad blocker rule(s) and the page will load as expected.