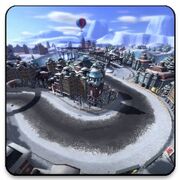 Snow Storm City is a Track in ModNation Racers.
This Track's track path has multiple points where players can take alternate routes. The track is somewhat short, as average lap times are around forty-five seconds.
On the track, scattered Item Pods prevent it from being a weapon fest and force players to rely on racing more than killing. The only Mega Jump is at the end of the track path, encouraging players to use Warps on the jump to win races on this Track.
Ad blocker interference detected!
Wikia is a free-to-use site that makes money from advertising. We have a modified experience for viewers using ad blockers

Wikia is not accessible if you've made further modifications. Remove the custom ad blocker rule(s) and the page will load as expected.