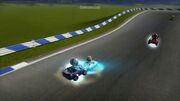 This weapon series will fire blue Sonic blasts that will stun other players.
Level one: Sonic Bomb
Edit
This weapon will fire blue sonic rings around you that can stun multiple players in a certain radius around you.
Level two: Sonic Cannon
Edit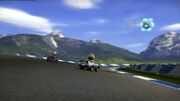 The Sonic Cannon will fire three Sonic mines ahead of you that explode into Sonic Bombs.
Level three: Sonic Rift
Edit
The Sonic Rift will fire a mine that goes along the track, spawning three Sonic Bombs that follow the mine. The mine only stuns players that are behind the last Sonic Bomb, but players that are stunned by this will lose their weapon.
In ModNation Racers: Road Trip, the Sonic Rift fires blue rings along the track ahead of the player that uses the weapon. It also gives the player an Amnesty Shield that protects you from Sonic Rifts and all of the Sonic Bomb class weapons while the Sonic Bomb can still stun other players.
Sonic Bomb Secondary
Edit
This is only relevant to the PS3 version of this game. This is because secondary weapons don't exist in ModNation Racers: Road Trip, and holding the Fire button will instead Cash In the weapon and give Boost Points.
The Sonic Bomb Secondary (and the three other secondary weapons) is activated by holding the Square button. This weapon fires a Blue mine behind the player that explodes when a player runs into it.
Level one secondary weapons (and the equivalent in ModNation Racers: Road Trip, the Plutonium Mine) disappear after three seconds, and level two secondary weapons will not disappear (or disappear after an extended period of time). Level three secondary weapons have a similarly colored circle (Blue for the Sonic Bomb secondary) around them that marks the increased range that passing players will activate the mine with.
Ad blocker interference detected!
Wikia is a free-to-use site that makes money from advertising. We have a modified experience for viewers using ad blockers

Wikia is not accessible if you've made further modifications. Remove the custom ad blocker rule(s) and the page will load as expected.