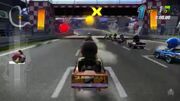 The Start Line Prop is what marks where you enter the next lap in a Track. It also adds starting positions on the track before it.


In the PSP version of Wild Run, the Start Line has a black background where the MRC animation should be. This may indicate that the final version of that track is older than the other tracks.
In ModNation Racers: Road Trip, you can copy the Start Line Prop by selecting another prop in Edit Props, then pressing the copy button and tapping on the Start Line. The copied prop will act more like a normal prop, you can reset it, you can copy it freely. It will become just like a normal prop when you reenter the Track Studio.
Ad blocker interference detected!
Wikia is a free-to-use site that makes money from advertising. We have a modified experience for viewers using ad blockers

Wikia is not accessible if you've made further modifications. Remove the custom ad blocker rule(s) and the page will load as expected.