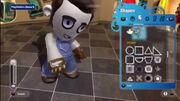 Stickers are the decals players are able to place on Mods and Karts. There is a lot of different stickers available to use on creations. Due to RAM limitations, players can only use up to forty-five unique stickers on a Mod or Kart, and the total amount of stickers that can be placed on a single creation is three-hundred and fifty (350).
In an older version of ModNation Racers, the maximum amount of stickers that can be used in a single creation is five hundred (500).
Ad blocker interference detected!
Wikia is a free-to-use site that makes money from advertising. We have a modified experience for viewers using ad blockers

Wikia is not accessible if you've made further modifications. Remove the custom ad blocker rule(s) and the page will load as expected.