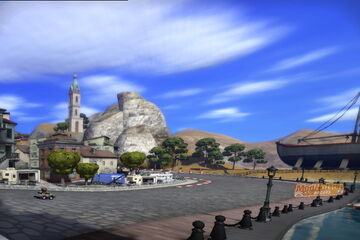 Switchback Valley is the third track of the Grim Tour, which features Shadow, the champion of the track. There are two shortcuts on the track as well as two big jump sections. This is also the last race where Tag races with Conservative Motors.
In Career Mode
Edit
Achievement Details
Advance
Finish 3rd or better

Payoff
Finish 1st


Get 70,000 Drift points

Bonus
Finish 1st


Take Down Shadow
Mean Native (Headgear), Elbow Pads (Accessories), Gums Mouths (set of 15), Cruise Ship (Track Studio props)|-
Grudge Match (Shadow)
Get a higher score than Shadow

Ad blocker interference detected!
Wikia is a free-to-use site that makes money from advertising. We have a modified experience for viewers using ad blockers

Wikia is not accessible if you've made further modifications. Remove the custom ad blocker rule(s) and the page will load as expected.